"Once we upload this to YouTube, I'm gonna be so rich for my sweet motorbike-do!"
Jockey Ulmulk is a character in Metaworld.
Personality
Jockey wants to become really rich, as you can tell by him quoting "Once we upload this to YouTube, I'm gonna be so rich for my sweet motorbike-do!" in Meek Wanna Isle. He also likes football, even though he does not know what a football is.
Appearance
Jockey appears to wear a doctor's coat and pants,as well as a pair of goggles and an iron helmet with five bolts on the top and a sharp mandible at the bottom, and two bolts keeping the mandible in place. Jockey also wears a stethoscope on his neck and has two pens in his breast pocket. However, Jockey has no degree as a doctor, though he still has a PH.D.
Colors:
Appearances
Every episode.
Trivia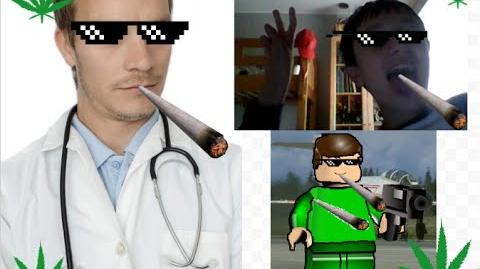 The video of Jockey on the motorbike has been uploaded to YouTube in universe and in reality.
Jockey's CGI is the most different out of the main cast, due to the extensive detail on Jockey in the show. Thus, the only things exactly the same are his skin and his pants. Differences include an addition of dark gray gloves instead of bare hands, white armor instead of doctor equipment and doctor's coat, and most noticeably, a dark gray Ant-Man helmet instead of a metal silver helmet with a sharp mandible below.
He is Marty's favorite character.
Gallery
Ad blocker interference detected!
Wikia is a free-to-use site that makes money from advertising. We have a modified experience for viewers using ad blockers

Wikia is not accessible if you've made further modifications. Remove the custom ad blocker rule(s) and the page will load as expected.