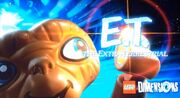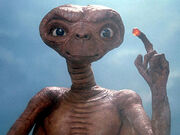 E.T. is a character played by LEGOBennyBrick3. He is in a love relationship with The Cipher King . He also is obsessed with having sex.
Background
E.T. was first introduced in Episode 6.
Relationships
Cipher King
E.T. is the parent and boyfriend of Cipher. He is strongly in love with him.  This is E.T.'s best relationship.
E.T. will often remove Clara's clothes because she is sexy.
Marty is often portrayed as an enemy of E.T.
Vesp is E.T.'s acquaintance. They haven't interacted too much so far.
E.T. does appreciate fat people but won't eat Archie because he has too much meat.
Lily, however, E.T. has eaten twice. She is very delicious.
E.T. is a good friend of RGT.
Trigger is a good friend of E.T.