Agent Ghost is an action sci-fi tv show about a man called Magnus Specter, who lives a double-life as Agent Ghost, a spy working for the Top Secret Task Force.
Description
Magnus Specter has a job as an ordinary accountant for Legion Electronics, a big-time electrics company. But secretly, he works as an undercover spy for the Top Secret Task Force, a spy group situated inside the Legion Electronics Skyscraper. Together with his partner, Allen McBlast, They fight villains.
Cast
Episodes
Season 1:
The First Mission
The Telebrae Case
The Doom Agency
Time-Travel Chaos (TAOV Crossover)
TBC
TBC
TBC
Inspecting the Apartment (TALOVAG Crossover)
The SS Mark 3
TBC
The Duel between the Agents
The Final Battle
Season 2:
Working Undercover (Undercover Crossover)
The End of Time (4 part crossover with The Creature Hunt, Tales of Time, and TAOV)
Gallery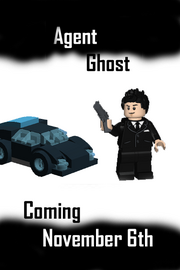 Ad blocker interference detected!
Wikia is a free-to-use site that makes money from advertising. We have a modified experience for viewers using ad blockers

Wikia is not accessible if you've made further modifications. Remove the custom ad blocker rule(s) and the page will load as expected.